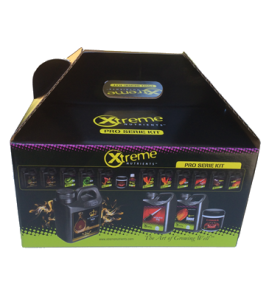 Pro Series Kit 
Xtreme nutrients has captured the essence of maximizing the most  ingredients in  a bottle for optimal performance.Judging often plays a major factor in the decision making process, Xtreme Series Kit can provide peace of mind and comfort , that will enable you  to define  the outcome with outstanding results. Judge for yourself.  You will become a believer.  THE ART OF GROWING WELL !!!
Bon Vivant Grow 1 x 500 ml
Bon Vivant Bloom 1 x 500 ml
Xtreme Veg 1 x 500 ml
Xtreme Juice 1 x 500 ml
Root Tonic 1 x 500 ml
Cobra 1 x 50 gr.
Xtreme Grow 1 x 120 ml
Early Turn A 1 x 500 ml
Early Turn B 1 x 500 ml
Xtreme Boost 1 x 500 ml
Samurai PK 1 x 500 ml
Power Rock 1 X 500 ml
Brochure.

Directions:
The Early A is to be used on the first week of Bloom and what this does to 
the plant is first stop vertical grow and inducing flowering in 3 to 5 days 
, and continuing the 2nd week with B, no water flush interruption, and what 
this B does is induce doubling of flowering production (close to each 
other ).
Available in: